IMMERSION 2014 PREMIER SPONSORS:


Contact the Director of the Immersive Education Initiative to sponsor IMMERSION 2014.
IMMERSION 2014 EXHIBITORS:


The Walt Disney Company
The Walt Disney Company exhibit will feature 3D stereo video and artwork from the Academy Award®-winning animated film Frozen. The exhibit will also feature the Disney Infinity Frozen Toy Box video game.
Frozen is a sweeping epic tale, filled with magical ice and swirling snow. For the film Walt Disney Animation Studios utilized stereo 3D and depth to enhance the story and emotionally engage viewers in a way that is not possible with traditional movies.
This exhibit compliments the Disney's IMMERSION 2014 keynote by Katie Fico. The award-winning Stereoscopic Supervisor at Walt Disney Animation Studios delivers her keynote, Frozen: The Art of 3D Storytelling, to open the Entertainment module on Saturday morning, June 7th.
Contact the IMMERSION 2014 conference team to exhibit or to sponsor IMMERSION 2014.
Stratasys : The World's Leading 3D Printing Company
Stratasys leads the world in 3D printing. The company manufactures 3D printing equipment and materials that "invert immersion" by creating physical, real-world renditions of virtual objects. Manufacturers use Stratasys 3D Printers to create models and prototypes for new product design and testing, and to build finished goods in low volume. Educators use the technology to elevate research and learning in science, engineering, design and art. Hobbyists and entrepreneurs use Stratasys 3D Printing to expand manufacturing into the home — creating gifts, novelties, customized devices and inventions.
This exhibit compliments the IMMERSION 2014 "3D Printing" keynote. Jon Cobb, Executive Vice President of Corporate Affairs at Stratasys, delivers his keynote, From Bits to Atoms — The Rise of 3D Printing, to open the Business module on Sunday afternoon, June 8th.
Contact the IMMERSION 2014 conference team to exhibit or to sponsor IMMERSION 2014.
Oculus Arcade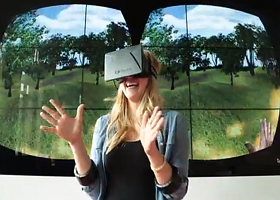 Enter the Oculus Arcade! See for yourself why Facebook just purchased Oculus for $2 BILLION. Become immersed in over a dozen Oculus Rift games, virtual worlds, demos, experiments and cutting-edge projects now under development specially for the Rift.

The Oculus Rift is a new virtual reality headset that lets players step inside their favorite games and virtual worlds. The Rift uses custom tracking technology to provide ultra-low latency 360° head tracking, allowing you to seamlessly look around the virtual world just as you would in real life. Every subtle movement of your head is tracked in real time creating a natural and intuitive experience.

The Oculus Rift creates a stereoscopic 3D view with excellent depth, scale, and parallax. Unlike 3D on a television or in a movie, this is achieved by presenting unique and parallel images for each eye. This is the same way your eyes perceive images in the real world, creating a much more natural and comfortable experience.
Contact the IMMERSION 2014 conference team to exhibit or to sponsor IMMERSION 2014.
Microsoft
Be amazed. Welcome to Microsoft's Xbox One, Kinect and SmartGlass: Powerhouse technologies powering a new generation of immersive games, entertainment and learning environments. Welcome to an immersive world where games push the boundaries of realism. And television obeys your every command. Where listening to music while playing a game is a snap. And you can jump from TV to movies to music to a game in an instant. Where your experience is custom tailored to you.

Attendees will able to experience the new Xbox One, Kinect and SmartGlass at Microsoft's IMMERSION 2014 exhibit. Microsoft's newest mobile phones and Surface tablet computers will also be available for attendees to experience first hand. Xbox One is Microsoft's new all-in-one entertainment system. Where the best games, multiplayer, and your favorite movies, music, sports, and live TV come together in one place.

Kinect is a motion sensing input device for Xbox 360 and Xbox One video game consoles and Windows PCs. Based around a webcam-style add-on peripheral, it enables users to control and interact with their console/computer without the need for a game controller, through a natural user interface using gestures and spoken commands.

SmartGlass connects with the Xbox and allows more interactive entertainment, allowing mobile devices to serve as second screens and remote controller (providing information such as Halo 4 stats and Forza Horizon GPS, for example). Smartglass allows users to manage television and view game statistics and activities otherwise unavailable on the console. Smartglass can be used to snap applications side-by-side on the Xbox One, and it can be also used to send friend messages on Xbox Live.
Contact the IMMERSION 2014 conference team to exhibit or to sponsor IMMERSION 2014.
Wearable Computing
Attendees will have an opportunity to experience two of the best-known wearable computing devices — Google Glass and the Pebble Smartwatch. Conference staff will be available to demonstrate how the devices are used and to answer questions about their capabilities.

Google Glass is a wearable computer with an optical head-mounted display (OHMD). It was developed by Google with the mission of producing a mass-market ubiquitous computer. Google Glass displays information in a smartphone-like hands-free format. Wearers communicate with the Internet via natural language voice commands. Google Glass features include: Touchpad, Camera, Voice Input and an LED illuminated display.

Pebble is the smartwatch that 85,000+ people brought to life through Kickstarter. After setting the Kickstarter funding record, Pebble has continued to develop into a fully-functional and customizable smartwatch ecosystem. The Pebble Smartwatch features a black and white e-paper display, a vibrating motor, a magnetometer, ambient light sensors and an accelerometer, enabling its use as an activity tracker. The Pebble is compatible with Android and iOS devices. When connected to a phone, it can receive a vibrating alert to text messages, emails, incoming calls, and notifications from social media accounts. It can also act as a remote controller for the phone, or for cameras such as the GoPro. As of February 2014, the Pebble app store had over 1000 applications.
Contact the IMMERSION 2014 conference team to exhibit or to sponsor IMMERSION 2014.
Immersive Interfaces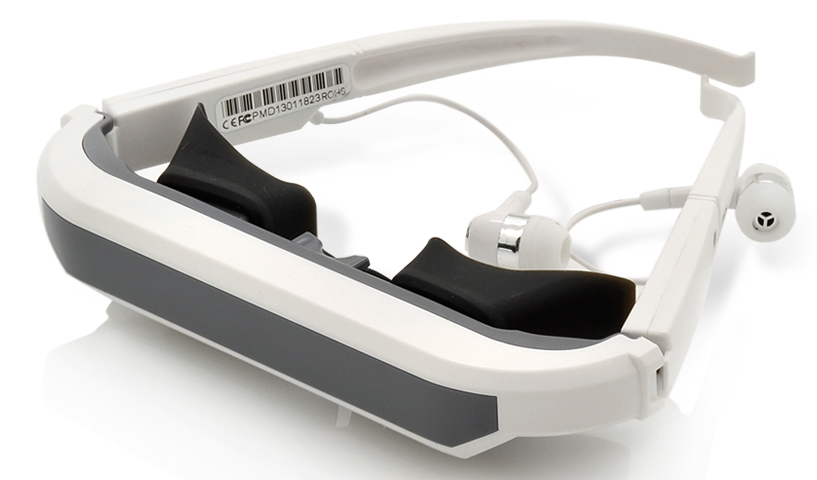 Immersive Interfaces is an exhibit that features samples from Digital Den's extensive collection of innovative and fun hardware and software interfaces. The goal of this exhibit is to demonstrate how to push the boundaries of immersive experiences by pairing high end commercial platforms (e.g. virtual worlds, high end photo-realistic VR software and games) with advanced visual displays (multi-screen, surround video and 3D headsets) and natural user interfaces to create more powerful immersive experiences than are typically available to the public (or even the experts who work with each of the individual products). The exhibit also includes a variety of vintage products in order to illustrate key points about the evolution of immersive interfaces. Some examples of things in the complete archive include an XBox with Steel Battalion, XBox with Kinect and complete set of Harmonix Rock Band instruments, Nintendo Entertainment System with a functioning Power Glove, Nintendo Wii Fit Balance Board, Magic Cube projected keyboard, Leap Motion, MindWave, Sony Personal Video System, Personal theatre video glasses and an Oculus Rift Development Kit.
Contact the IMMERSION 2014 conference team to exhibit or to sponsor IMMERSION 2014.
Immersive Journalism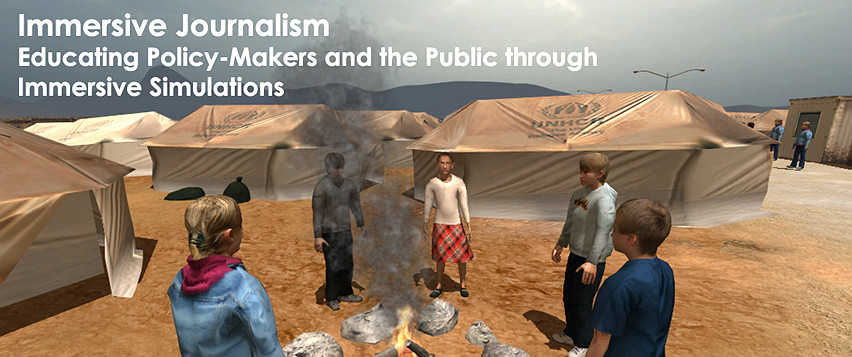 Immersive Journalism is a novel method that utilizes real time video gaming technology and Virtual Reality hardware to convey news, documentaries and non-fiction stories to the participant as though they were actually at the scene. Participants can gain a "first person" experiences of the events that affords unprecedented access to the sights and sounds, and possibly, the emotions that accompany the event.


IMMERSIVE JOURNALISM: USE OF FORCE PROJECT
Use of Force premiered at the Tribeca Film Festival 2014

Use of Force is a fully immersive education/documentary experience that puts the viewer on scene of the horrific killing of migrant Anastasio Hernandez Rojas by border patrol agents on the U.S. – Mexico border in 2010. Using custom built virtual reality hardware, participants will stand alongside witnesses who were trying to stop the events unfolding, offering a profound and visceral experience. Use of Force was created by Nonny de la Peña and produced by Vangelis Lympouridis and Michael Licht. Nonny de la Peña is an award-winning pioneer of immersive journalism. Michael Licht is a 15 year video game design veteran and producer of Immersive Journalism projects.
This exhibit compliments the IMMERSION 2014 talk Immersive Journalism: Educating Policy-Makers and the Public through Immersive Simulations to be delivered by featured speaker Michael Licht in the Education module on Sunday morning, June 8th.
Contact the IMMERSION 2014 conference team to exhibit or to sponsor IMMERSION 2014.
3D Chroma Art
Roya Adjory is an Iranian-born artist who immigrated to the United States prior to the revolution. After graduating from Sacramento State University and traveling extensively, she began a process of creating art across a diverse set of styles and forms. Her most recent work is called Chroma 3D Art, in which the proper placement of color on a 2D surface produces a 3D effect when viewed through Chroma Depth Glasses. Roya will exhibit a series of examples of her immersive art at IMMERSION 2014.
Contact the IMMERSION 2014 conference team to exhibit or to sponsor IMMERSION 2014.
Identity Mapping Project (IMP)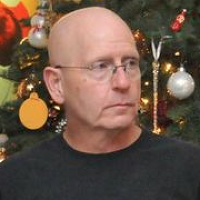 The Identity Mapping Project is a collaboration of 3 professors at Loyola Marymount University—Richard Gilbert (Psychology), John Dionisio (Computer Science), and Philip Dorin (Computer Science)—and Andrew Forney, a doctoral student in Computer Science at UCLA. The goal of the project is to generate thousands (if not millions) of identity maps from around the globe and chart the nature of identity in the today's digital world. An "identity map" shows how active someone is online and how their identity is expressed in a variety of online forms including: email, blogs/personal websites, social networks, online forums, digital games, and 3D virtual worlds. At IMMERSION 2014, participants will be able to complete a brief, anonymous survey and see, share, and download a free color-coded map of their digital identity.
Contact the IMMERSION 2014 conference team to exhibit or to sponsor IMMERSION 2014.
IMMERSION 2014

Building on the success of the previous 8 years of Immersive Education (iED) conferences, the world's leading experts in immersion convene June 6-8 in Los Angeles California for IMMERSION 2014. Hosted by Loyola Marymount University (LMU) in collaboration with the Smithsonian Institution and the Western USA Chapter of the Immersive Education Initiative (iED West), IMMERSION 2014 opens with a special Arts & Culture reception at The Getty Center.

IMMERSION 2014 addresses the personal and cultural impact of digital technologies such as wearable computing (e.g., Google Glass and Samsung Gear), virtual reality (VR), augmented reality (AR), mixed reality (MXR), mechanical and neural interfaces, affective computing (systems that can recognize, interpret, process, and simulate human feelings and emotions), neuro-gaming technologies (that are used to create adaptive and radically compelling game experiences), 3D printing, personal robotics, virtual currencies and economies (universal digital micropayments, Bitcoin and related cryptocurrencies), telepresence, virtual worlds, simulations, game-based learning and training systems, immersive MOOCs (Massive Open Online Courses), and fully immersive environments such as caves and domes.

For the first time since its inception the global iED Summit features an exciting new module-based conference format and price structure. IMMERSION 2014 modules include Arts & Culture, Entertainment, Human-Computer Interaction, a screening and panel discussion of the movie HER, Immersive Teaching & Learning, and Business and Economics.
About the Immersive Education Initiative

The Immersive Education Initiative is a non-profit international collaboration of educational institutions, research institutes, museums, consortia and companies. The Initiative was established in 2005 with the mission to define and develop standards, best practices, technology platforms, training and education programs, and communities of support for virtual worlds, virtual reality, augmented and mixed reality, simulations, game-based learning and training systems, and fully immersive environments such as caves and domes.

Thousands of faculty, researchers, staff and administrators are members of the Immersive Education Initiative, who together service millions of academic and corporate learners worldwide.

Chapters support the rapid and continued growth of Immersive Education throughout the world, and constitute the geographically distributed structure of the organization through which regional and local members are supported and enriched. Chapters organize officially sanctioned Summits, Days, workshops, collaborations, seminars, lectures, forums, meetings, public service events and activities, technical groups, technical work items, research, and related activities.
About Immersive Education Summits

Immersive Education (iED) Summits are official Immersive Education Initiative conferences organized for educators, researchers, administrators, business leaders and the general public. iED Summits consist of presentations, panel discussions, break-out sessions, demos and workshops that provide attendees with an in-depth overview of immersion and the technologies that enable immersion. iED Summits feature new and emerging virtual worlds, game-based learning and training systems, simulations, mixed/augmented reality, fully immersive environments, immersive learning and training platforms, cutting-edge research from around the world, and related tools, techniques, technologies, standards and best practices.

Speakers at iED Summits have included faculty, researchers, staff, administrators and professionals from Boston College, Harvard University (Harvard Graduate School of Education, Berkman Center for Internet and Society at Harvard Law School, and Harvard Kennedy School of Government), Massachusetts Institute of Technology (MIT), MIT Media Lab, The Smithsonian Institution, UNESCO (United Nations Educational, Scientific and Cultural Organization), Federation of American Scientists (FAS), United States Department of Education, National Aeronautics and Space Administration (NASA), Temple University, Stanford University, Internet 2, Cornell University, Loyola Marymount University, Southeast Kansas Education Service Center, Kauffman Foundation, Amherst College, Boston Library Consortium, Stratasys Ltd., South Park Elementary School, Duke University, Oracle, Sun Microsystems, Turner Broadcasting, Open Wonderland Foundation, Gates Planetarium, Vertex Pharmaceuticals, Intel, University of Maryland College Park, realXtend (Finland), Computerworld, The MOFET Institute (Israel), Keio University (Japan), National University of Singapore (NUS), Coventry University (UK), Giunti Labs (Italy) and European Learning Industry Group, Open University (UK), Universidad Carlos III de Madrid (Spain), University of Oulu (Finland), Royal Institute of Technology (Sweden), École Nationale Supérieure des Arts Décoratifs (EnsAD; France), Interdisciplinary Center Herzliya (Israel), Graz University of Technology (Austria), University of West of Scotland (UK), University of Essex (UK), Universidad Complutense de Madrid (Spain), University of Vienna (Austria), Government of New South Wales (Australia), Eötvös Loránd Tudományegyetem (Hungary), Universidade Federal do Rio Grande do Sul (UFRGS; Brazil) and many more world-class organizations.


ImmersiveEducation.org
twitter.com/Immersive
facebook.com/ImmersiveEducation